Amanda celebrated her Sweet 16 Saturday night at Sunset Terrace at Chelsea Piers. Her mom was nervous that her friends would be staring at their phones all night and might not be open to having DJ Dave bring a long Karaoke as well. After cocktail hour this was the 3rd Karaoke song of the night..what do you think?
For Cocktail hour the Birthday girl, Amanda, gave DJ Dave a list of her favorite songs and artists that included Boy Pablo, Phony Ppl, Peach Pit, Arctic Monkeys and much more. The Dance floor and the Karaoke opened up after that. Here is Dave's Assistant Mac leading the Cupid Shuffle
We have a very distinct style whereas we feel we are more facilitators then a focal point. If the crowd wants high energy we will deliver that..if they want a DJ to play great music with hardly using the microphone we will deliver that as well….we are very flexible and we LISTEN.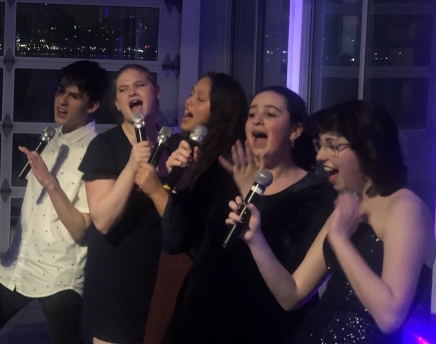 Amanda's Mom Lisa produced a perfect party and sent DJ Dave this lovely email soon after the party.

From: Lisa K
Date: Monday, May 6, 2019 at 5:35 PM
To: David Swirsky
Subject: Thank you!
Thank you so much David! Think Amanda is ready to do it all over again! Her friends were raving about it on social media.
Not only did they not want to leave, I was so impressed that they danced right to the end. And were not glued to their phones.

I will soon write you a review and recommend you to friends and family as well.

Regards,
Lisa
Jennifer and her staff at Sunset Terrace are top professionals. you should consider having your event at there because of the uniqueness of the space, the amazing food and top staff…you can't go wrong …truly.
The Sweet 16 Birthday Girl, Amanda, is lovely and really knows her music! (and so do her friends) Here is DJ Dave's assistant Mac, Amanda and DJ Dave at the Party.