Karaoke Services NYC

Founded in 1992 we are a collective of great professional Karaoke DJ's from NYC. Our KJ's and DJ's host all types of karaoke events from Kids Karaoke parties to TV and Movie Wrap parties to corporate events and everything in between. Clients of ours have included P.Diddy, Senator Chuck Schumer, Calvin Klein, Deloitte & Touche, Paul Weiss LLP, Ashley Judd, Saturday Night Live and many, many, many more! We've been voted Best Karaoke DJ for 10 straight years by the top New York City Publications. (Please scroll down to see what make us unique)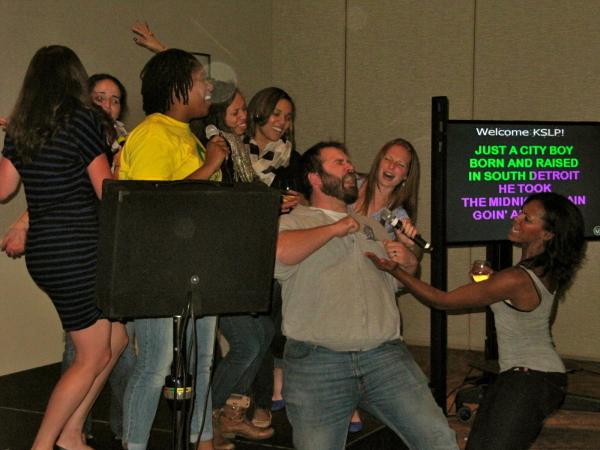 Our kj's and dj's keep guests singing and dancing without hype and without needing to be in the spotlight. We simply let others shine.

What makes us unique?
2017 is our 25th year in business as DJ's and karaoke dj's here in New York City. Please know when it comes to disc or karaoke jockey's one size does not fit all! Our DJ's are all full time Professionals. With Karaoke it's not enough to just be a good DJ/KJ..a Top KJ also has to be a Professional Sound person(when going to karaoke there is nothing worse then hearing a muffled singer or excessive piercing feeedback from the speakers) A Top Kj also has to know how seamlessly mix the back round music with the singers vocals so the result pleases both the audience and singer. This is no small task if you haven't done this for years. Most DJ's don't want to have anything to do with Karaoke because it puts other people in the spotlight…Our DJ's love supporting others and to help make them shine. (isn't that what it's all about?)
Please visit our main Website for more information about our additional services including Photo Booth, Lighting and Live Music.
Please contact owner/dj David Swirsky or our event coordinator Charissa if you have any questions or if you would like a quote for your event 212-953-9367 or email us at info@expresswaymusic.com.